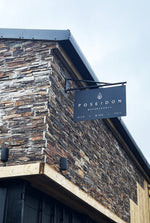 We've spent the winter months kitting out our new shop in Newquay and we're excited to say that we're now officially open. We've had a few visitors already, some Kernow crew and some visitors from Poole and Bournemouth too. 
Kite, wing and foil kit available to browse and buy, we've got a range of goods both in store and online from
Ozone
,
Axis
,
Armstrong
,
Mystic
,
Freedom Foilboards
,
Solite
and more. We've also just hung up some fresh threads from
Mystic
, so we can kit you up on and off the water now too.
During April we'll be open Monday - Saturday 9-5, with a plan to extend to being open 7 days a week when the season is in full flow. So keep your eyes peeled for details on
social
, newsletters and exclusive shop discounts too through our Poole Kite + Wing Club
membership
.
We'll be planning some local demos here throughout the year, excited to have what we believe is the latest and greatest kit to try out in some of the best spots in the motherland. The Newquay shop and showroom will also hold host to our camps, more news coming soon on these but we know you're going to be stoked for them.
To celebrate the shop opening, spread the love and welcome everyone to come and see what we're all about, we'll be hosting a little gathering here at the shop towards the end of April. There'll be music, beers and the chance to mingle with like minded riders in Newquays' newest kite, wing + foil shop.