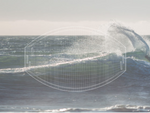 Ride Engine is renowned for making the best fitting hard-shell harnesses in kiteboarding and windsurfing. They were the first company to make a hard-shell harness—a revolutionary design change that nearly every other company has since attempted to duplicate. Although the copycats are plentiful, they fail to achieve the famed Ride Engine fit. Why? Because the design of this hard-shell harnesses is derived from hundreds of lumbar back scans of women and men.
They've been collecting data on riders' backs since the very early days of Ride Engine, when founder, Coleman Buckley, started making custom-molded hard-shell harnesses out of his Santa Cruz garage. There wasn't any need for separate Men's and Women's models—those original Ride Engine harnesses weren't gender specific, they were individual specific, custom built to the exact measurements of each rider. Back then, Coleman would send a rider a casting kit and have them take a mold of the lumbar region of their back.
Fast forward to today, and Ride Engine continues to use the scans and data points in order to provide the very best in fit, sizing and support.
• Ride Engine is the only company that uses separate molds for each hard-shell size. This allows them to generate the absolute, correct average of contours by size.
• The ergonomic shape of the Armor Shell and design of the proprietary Lumbar Lock is optimised with the data to create harnesses that will stay lower, not twist, provide support that is free of pressure points,and is superior in fit for women and men.
• This locked-in fit derived from the data points also allows for a more compact harness profile, which increases mobility for everything from getting the board on your feet to bending over while reaching for the grab.