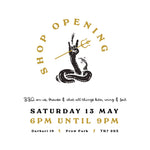 Our shop in Newquay has been open for a while now, but we'd like to welcome everyone in for an evening of kit browsing, free food and drinks to see what we're all about. So whether you know us from the school in Poole, or you're a local kiter, winger or foil fanatic over her in Cornwall and Newquay, we'd love to see you on Saturday evening. Jace from Skimdog are going to be setting the vibe on the decks and we'll have a BBQ on the go from 6pm with beers on us as well.
Everybody's welcome to come along, so swing by, grab some grub and meet riders from across the UK with all the knowledge of where to session in Cornwall. On that note, Satuday and Sunday we'll be making the most of the forecast and heading out for some weekend water time, follow us
@poseidonwatersportsuk
to keep an eye on where we'll be.