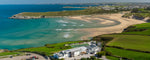 Newquay Weekend Session Plans
Either side of our evening social at the shop we're keen to plan a session together, so we've been watching the forecast and now calling some riding plans - where we'll be and what we'll be riding.
Welcome to join us for a session, come say hi or use the chance to demo some of the latest kit.
For session updates join
THIS
whatsapp group 
The Forecast 
A sunny Saturday and mild Sunday, the conditions are predicted to be be more mellow than hoped with light wind forecast for both days.
So our eyes are on the swell forecast which is suggesting a mellow 2-3 foot wave through both days.
We haven't fully written off wind sports as there is chance of an afternoon seabreeze, particuarly on Sunday, but we're getting excited for a weekend of paddle/surf sports.
The tides are still relatively strong, high in the middle of the day. So we'll be looking at fins in the morning when it's pushing, foils in the early afternoon and then keeping fingers crossed for kites/wings Sunday evening.
Session Plans 
Saturday
6-9pm
BBQ and beers at Poseidon shop -
Prow Park
After 9pm
 - There's likely to be a few more beers in town,
The Sink
is always a central start.
Morning options - Surf Fistral with fins, or hit crantock with foils at 10.30am and embrace the tough swim out.
Afternoon
-
Daymer Bay
would be great if the wind builds and/or the swell pushes harder. If it remains mellow Crantock between 2-6pm should be really nice for foils.
Welcome to join us, We'll be aiming to film all the action, holla if you want to try some kit out and join the
whatsapp group
to keep in the loop.