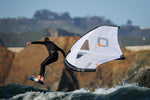 FLUX V1 FIRES OZONE TO THE TOP IN ITS FIRST REAL TEST ON THE RACE COURSE
Three days of short course racing on the San Francisco city-front saw Ozone team rider Johnny Heineken truly dominate proceedings with 14 race wins (from 14 races!) using Ozone's all-new, soon-to-be-released Flux V1 wing. He was joined in fourth by fellow Ozone rider, Ken Adgate, who was also blisteringly fast with Flux across all races, missing out on the final podium by just a single point.
Originally through sailing, then for kiting and now also in winging, when it comes to proving your mettle against some of the best and most committed windsport racers in the USA, nowhere holds more credibility and professional standards than the St. Francis Yacht Club race series events.
Johnny took bullets in every race while Ken Adgate narrowly missed out on the podium himself. Both riders were ecstatic to have benefitted from the Flux's immense performance, allowing them to win across a wide range of conditions; from lit on the 4.3m to utilising the immense light wind power of the 6.5m when the wind dropped back.
Ken: "The racing was really fun and we were so happy to have had the 6.5 and 5.7m Flux models shipped over ahead of the official product release. If we hadn't had them, Johnny wouldn't necessarily been in trouble, but I probably wouldn't have made it into the top ten. Ozone's did very well on the podium. The Flux was probably the best upwind all weekend and overall around all courses it was surprisingly good. They were really fun to ride, too. The 6.5 is very powerful, but did surprisingly well super overpowered."
The Flux is an all-new model to be introduced to the Ozone wing line-up in May and Johnny and Ken rode the first fully signed-off versions from the factory, shipped quickly to them ahead of the important race weekend.
And what an impact they had! The cat is well and truly out of the bag about the upcoming Flux V1 release.
Although the Flux hasn't been designed specifically for racing, the resulting benefits of blending the best leading edge materials with the expert aerodynamic knowhow honed from almost 25 years of paragliding and kiteboarding wing production have led to this.
+ AVAILABLE TO DEMO + PRE-ORDER SOON +