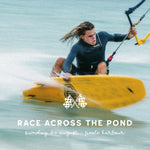 RACE ACROSS THE POND - 20TH AUGUST
Every season we like to put on a little social shindig for the local scene from Poseidon, and it wouldn't be summer here without a good BBQ on the beach. This year though we've decided to ramp things up a little, introduce a competition to the day and add some kite racing too.
Keeping things core, all about fun and participation, this is an all levels welcome, fun focused slalom day tournament pitting all abilities against each other for a light-hearted healthy competition which will crown a Race Across The Pond winner.
 
It's sure to create plenty of stories to laugh about with a beer and a burger after.
On the beach we'll have the coals roaring and food sizzling for a good feed, plenty of new gear to check out and a few tech talks lined up in case the wind doesn't play ball.
20th August - Provisional Day Plan
10am - 8pm
Racing / tech talks between 10-5pm
Food - 4/5pm
Race Overview
Rider Category - One class for all levels
Course Type - Slalom
Tournament style - Knock out heats leading to a final
Vessels - This one's for the kiters, on twin tips / directional - no foils
Location - The Pond, Sandbanks
No-wind? - it's for fun, so we'll roll on with paddle power for those who want to.
Planning
Exact times and details will be released on 17th August having seen the weather forecast.
Joining the skippers meeting is mandatory (briefing time released on 17th).
BKSA membership is mandatory, safety will be priority.
Stay tuned for more info and sign up to join the carnage HERE