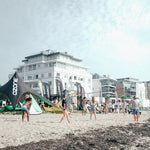 Become a part of the Poseidon team.
Poseidon Watersports does more than coach and outfit the UK's kite, wing + foil enthusiasts. It's a place to explore potential and break boundaries. We look for people who can think for themselves but work as a team, grow and develop an existing set of skills and create an atmosphere for people to learn and love the sports that have got us where we are today.
Poseidon's culture thrives by embracing change and rewarding straight up hard graft. We seek achievers, leaders and occasionally rule…benders. We work in a challenging and ever evolving industry, so we're looking for people that can keep up with the pace and bring their own talents to the team too.
We're a young [occasionally more in mind than in body] team, always open to new ideas and suggestions. Come join the ride.
WHO WE ARE LOOKING FOR:
+  Freelance advanced senior kite coach
+  Freelance kite coach
+  Freelance wing coach
+  Beach Assistant
FREELANCE KITE + WING COACHES 
WHAT THE ROLE IS:
As a freelance coach you can work as much or as little as you want, and we run the diary to your requirements. 
We need a minimum level of commitment in terms of time logged to work and in return offer all the perks you'd expect alongside a very strong hourly pay rate. So, you could work 12 hour or 3 hour days to make the life balance you want and earn enough dollar to pay the bills.
Over the years our school has become nationally recognised as one of the best and most popular schools in the UK, with this in mind we only accept a high level of coaching, experience is necessary to help us and you deliver the very best standards to those students who have chosen us to take them on their watersports journey. 
From the initial phone call with our bookings team, weather updates from beach management to time on the water with our coaches, each touch point between Poseidon and our students and customers is consistent. Patient, passionate, attentive and fun is how we would like an experience at Poseidon to be described. 
You'll need to be hands on, getting stuck in to work as a team, helping out the local kite community if and when needed and always ready to pump up or paddle out for an afterwork session too.
Flexible contract, 1-50 hours per week
Strong hourly rate
Experience and qualifications required
Must be a sociable team player, ready to graft
Attention to detail and understanding of high quality customer service essential
Passion for riding and getting people into the sports
Help with local accommodation can be arranged
Send us a CV and tell us about yourself below.
BEACH ASSISTANT
WHAT THE ROLE IS:
A better way to spend your summer than stacking shelves, you'll be responsible for keeping the beach looking clean, tidy
 and in working order. You'll be handing out wetsuits and equipment to customers, setting up paddleboards and keeping an eye out for anyone that might have a question or need anything at the beach. You'll need to be proactive, a good team payer, preferably passionate about watersports and be ready to graft like the rest of the crew.
Energetic watersports enthusiasts preferred
Weekend, evenings and school holidays
No experience required
On the job training
Day rate
Job perks
Send us a CV and tell us about yourself below.