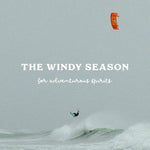 Whilst others might have moaned about the rain, we definitely can't complain about a lack of wind this Summer. Fom our sites in Poole and Newquay our team and community have been buzzing, excited to see back to back wind and waves allowing us all to clock in session after session. We've been stoked to see the progression rocket.
Whilst we paused a little to enjoy the late summer sunshine, we're now excited to see the first week of proper Autumn wind lining up, and even more buzzing that the best is yet to come.
Autumn, or 'the windy season' as we like to call it, is that time of year when the tables turn and the summer's energy starts giving back. Tightly packed low pressure systems are already lining up across the Atlantic and the first hurricanes are forming out west. As the jet stream guides their path towards us, these systems generally take charge in the Autumn months, barging high pressure out of the way and delivering us a string of meterological energy.
It's our favourite time of year, particularly after a hot September, the water holds it's warmth for a few more months and we're in store for a whole new level of fun, which riders in the know have been excited for.
This year we want to make the most of it together with our community so we're inviting you to ride with us.

2023 has been an exciting one here, expanding into the West country opening a bricks and mortar store, whilst teaching so many stoked riders at the school in  Poole. Developing further we are really excited to now offer coaching from Poole and Cornwall too in both kite and wingfoiling. Further more we've lined up a schedule of ways to make the most of the Autumn and invite you to get involved.
Advanced Kite & wing Coaching - Poole + Newquay
We're now offering advanced coaching for Kite and Winging In both Cornwall and Poole. 
Run by our head coach - Chris, we can help riders of all levels to progress in both the flat and waves, riding fins or foils.
Find out more HERE.
Kite & Wing Lessons - Poole + Newquay
We're excited to now offer training and advanced coaching of Winging and Kiting from Cornwall as well as Poole. Utilising a variety of beaches on the North Shore of the UK most picturesque and varied coastline, find out more HERE.
Beginner Training + Rental - Poole
As always, we don't slow down or run away in Autumn, it's the UK's best season for watersports so you'll see our school open and booking availability live. Please just plan ahead as we're not always manning the beach when all instructors are teaching.
Zero to Hero Course - Poole
If you hadn't heard about our Zero to Hero Course and you or a friend is looking to get into kiting - it's possibly the perfect package.
A bundle of all the lessons and rental you might need to have your level fast tracked whilst riding every single day of Autumn to a total of £1350.
Find out more HERE.
Knowledge Booster Course - Poole + Newquay
Already kiting and keen to build a deeper level of understanding about kit, the weather and personal progression?
We're running another 'Knowledge Booster' on Sunday 24th Sepetmber Book in HERE.
Foil Classic Competition
Yes - we're working on hosting a foil event. A surf style focused competition to include a Wing and Prone discipline. Run in a grass roots format and all about wave riding, it's taken longer than we'd hoped to tick all official boxes, but we're hoping to get info and holding dates out soon. Stay tuned.
Cornwall Kite Camp - Newquay - 27-29th October
Interested in an adventurous, exciting kite weekend away to Cornwall? We're looking to put one on over the 27th - 29th October, let us know if you'd like first refusal on a place.
Shop Consultations - Newquay + Online 
Want some dedicated 1 on 1 time with an expert to help you choose what's right for you? We're here to help, book in an instore visit or phone/video call with our kit guru - Chris. 
Book in HERE
Equipment Demos - Newquay + Poole
New kite, wing and foil kit is always coming out and we've got our finger on the pulse, book in a demo to try before you buy HERE.
We've got the latest from Ozone, F-One, Armstrong, Axis and Freedom Foil Boards
Reviews & How To's - Online
Following positive feedback we will be keeping up-to-date reviews of the latest product releases on our youtube channel.
Tech Talks - Newquay + Online 
Looking ahead to the shorter days we'll be starting evening "Tech Talks" socials at the shop. Follow our social media HERE for updates.
Updated Shop Opening Times
Monday - shop closed for 'Media Monday' - welcome to phone us, or even join the session whilst we shoot content. ( check social media for where we're heading)
Tuesday - Tech Talk Tuesday (with beers) 7.30-8.30
Wed-Fri - 9-5
Saturday - 9-4
School Opening times 
Daily 9-6
When it's windy we're open until dusk