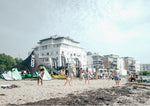 It's been quite the winter for watersports, with what's felt like endless spells of wind and swell across the coast, it's not been easy for learning, but pretty special for advanced riding.
We've been enjoying the conditions, teaching the brave few and making the most of each and every epic forecast either testing new kite and foil gear or heading out for a skill pushing session - stretching ourselves and our kit to its limit. For now though, the dark days are over, Spring has almost sprung and we're ready for another salt, sand and sun filled season.
You may have already noticed that we're no longer just the kite school we started as in 2013, having added wingfoiling to our list of services last year.
As a sport that is growing in popularity at a pace, we've enjoyed introducing many windsurfers, kiters and watersports newbies to the sport that has also sparked a new level of passion for the ocean amongst our team.
Our online shop has also developed in the last few months, we're excited to have welcomed
new brands
and equipment to our range, bringing the latest and, what we believe to be, the greatest gear to kiters, foilers and paddle boarders across the UK.
So from this year, with a broader interest and offering to what we do, still with the same expertise in our field, we've revamped our website and beach operations, now going as: POSEIDON WATERSPORTS.
Thanks for backing us and thinking of us when you've been choosing where to learn or shopping around and whilst we've always enjoyed putting the right kit in people's hands, it's been a real pleasure to help more people develop their sports as well as introduce new brands to the local scene and to coasts around the country too.
We'll get our school and beach community activities back up again from the end of March, with plans for our 2022 kite and wing youth squad and our crowd pleaser..the Weekend Warriors back for more sessions both on and off the water soon.
We'll also be back to more regular kit rental at the beach, open for each session and ready with plenty of kite and wing kit for you to session on. 
As usual we'll also be making sure there's plenty of social and demo action too.
Keep an eye on our social media and join our wind alerts for more details of when and where we're headed.