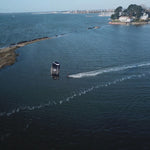 It's time. The water is warming up, the sun is shining and we're ready for spring at Poseidon, now open daily at the beach for drop in and pre-booked lessons and sessions from early until late.
We've been busy this winter getting ready for it, aside from developing our online store we've revamped things at the school, freshening up our kit with stacks more gear and making our beach set up more comfortable for post session chills, we've also improved our coaching systems and behind the scenes operations, have gone paperless and streamlined our admin whilst introducing some new services which together focus on making kiting, winging and paddle boarding with Poseidon better than ever.
Planning sessions with us is now easier than ever with live online booking for lessons, rental and kit demo, this year introducing online medical forms and a dedicated rental system to ensure there's less time faffing and more time for riding.
On the subject of coaching, we've introduced a new service, the 'Day 3'. A supervised practice session for people who know what to do, but need some support clocking in hours while working towards independence. A group lesson, you can join this budget friendly 5 hour session if you've had some experience before and need a few more pointers on riding. You can book this online or give us a shout if you have any more questions about what to expect.
'Regulars' might note a few changes including our electronic rental sign in and regulars cards being taken online, we also now request hire sessions are pre booked HERE so we know to expect you, but we're confident having talked you through these on your first visit you'll appreciate how much quicker we can be getting you on the water.
 We're excited to see and help more youth develop their kite and wing skills this year and will be restarting our youth club sessions on Thursday evenings from May. More info HERE.
Our youth kite classes are now open for booking, youth Wing dates will be up soon.

As always we love a good get together and a session with friends, so socials has been on our mind when planning this year. Team shortages hasn't made it easy but we've got a few casual events in the pipeline, and aiming to get some Weekend Warriors session action rolling from May. Follow our social media for updates.
Check out last year's action HERE.
In case you missed info on our shop
news
, we're now offering
Ozone
,
Airush
,
Reedin
,
Axis
,
Armstrong
,
AK
and
Ride Engine
gear for demo and sale, head down to the beach to chat to Chris about what we've got to offer and what might be right for you.
For now we're excited to see a solid forecast pushing in for next week and looking forward to seeing the water buzzing with action.


Hope to see you down here.